An Old Friend Goes to Heaven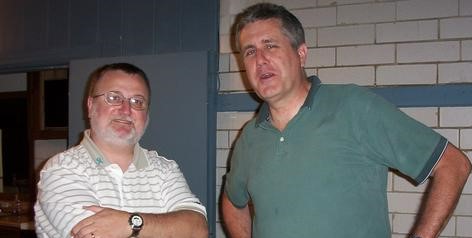 October 15, 2021
---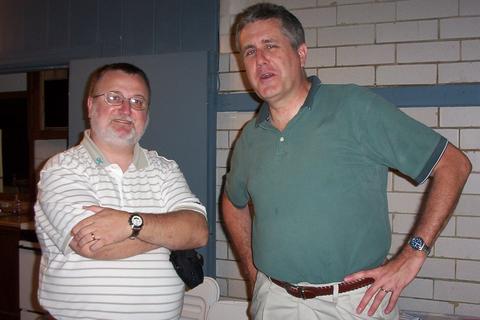 This picture is at least 16 years old.
Judging from the background, it was taken when we gathered at the Woodland Hills swimming pool in Russellville, Alabama.
It's the most recent picture I have of me and Danny McCollum. We met almost 60 years ago in Russellville where we grew up together. Danny's dad was Ed McCollum who served as a bi-vocational pastor, meaning he worked a fulltime job and pastored one of the many Baptist churches in the area.
I have spoken in other places about Brother Ed's impact on my life. He's the first pastor I ever knew who preached expository sermons, meaning he stood up, took a text, and told us what it meant. He's also the first person who ever explained the gospel to me. I consider him my father in the ministry.
Danny and I hung around together a lot. It was the two of us plus Tom Tom and PJ. I think I've got a picture of the four of us, but that picture is more than 50 years old, which means it is stuck in some box or in some photo album stashed away in the closet in one of our bedrooms.
Danny was a buddy, a friend, and a pal. We made our way through junior high and senior high school together. After that, our paths diverged, as is often the case with young people right on the cusp of adulthood. He spent time in Chattanooga and then for many years, he and Debbie lived in Nashville.
That's where he was when he died a couple of days ago. For five years he had been fighting a rare form of cancer. We talked a few times during his long battle. If I look back on those conversations, one fact sticks in my mind. Danny was the same with cancer as he was without it. He had the same calm demeanor that he had back when we grew up in Russellville.
He told me on more than one occasion that he was ready to meet the Lord whenever his time came. He spoke of heaven with faith and hope and optimism. Danny had plenty of questions about the cancer, but none at all about the Lord.
One of our old hymns says,
My faith has found a resting place,
Not in device or creed;
I trust the ever-living One,
His wounds for me shall plead.
That was Danny all the way. Cancer could take away his health, and ultimately his life, but it could not take away his faith.
He lived as a Christian.
He died as a Christian.
He has gone to a Christian's reward.
He told me once that he believed we were living in the Last Days. He said all the signs were in place for the coming of the Lord. Some people may think it sad that he didn't make it until that happy day.
But he did!
He met Jesus face to face two days ago. He met him as certainly as we hope to meet him when he comes again.
They are laying his body to rest at the KP Cemetery in Russellville. I have lots of friends out there, plus my mother and father are out there, buried on a gentle slope.
I want everyone who reads this to know two things. Danny was my friend. That hasn't changed. He has simply changed his address to heaven, but the friendship remains. It won't be long until we get acquainted again. The other thing is this. We haven't "lost" Danny. I know what people mean when they say that.
But a thing isn't lost if you know where it is.
We know where Danny is. He's in heaven with the Lord Jesus forever.
Our thoughts and prayers go out to Debbie and to the whole family.
I simply want to say, "Danny, thanks for more than a half-century of friendship. Thank you for showing us how to live and how to die."
Rest well, old friend. We will see you again.
Do you have any thoughts or questions about this post?