48 Years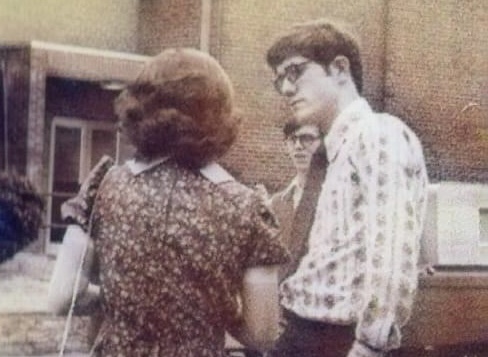 August 22, 2022
---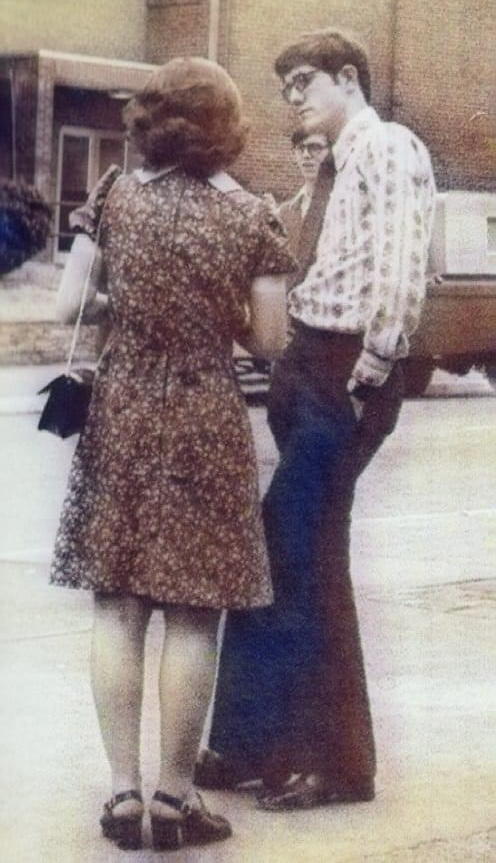 As far as I know, we only have one picture from the days when we were dating, and this is it. Someone snapped this picture in late 1973 or in early 1974, when we were seniors at Tennessee Temple College in Chattanooga. We were so engrossed in conversation that we didn't notice the photographer and therefore didn't know about the picture until it appeared in the yearbook months later. That accounts for both the picture and the location, at the corner of Union and Orchard Knob, across the street from the Happy Corner, where students congregated to get their mail and to visit the snack shop (where I spent a lot of time, as Marlene has often pointed out).
We got engaged in April before we graduated in May, intending to get married in a year. But a pastor friend said, "Why wait? Get married now," so we did, on a hot night in Phoenix, Arizona, exactly 48 years ago today.
We were young back then, and now we are not-so-young. We have seen the goodness of the Lord in so many ways.
Psalm 37:23 declares that "the steps of a good man are ordered by the Lord," and Psalm 37:4 says, "Delight yourself in the Lord, and he will give you the desire of your heart." Both verses have come true in my own life. My marriage to Marlene is proof that God always gives more than we ask for and much more than we deserve.
Happy Anniversary, Sweetheart! Thank you for 48 wonderful years.
Do you have any thoughts or questions about this post?